I thought Ubisoft's E3 press conference was a great display with nearly all of the games shown looking really impressive. They had many games to show and also included release dates for most the titles they have coming up.
The press conference started with this long dance parade (I think it was for Just Dance), which was a bit much and wasn't really unnecessary needed to be honest with you (like who even cares about just dance anyway), they didn't even talk about the game after all of that lol. As I've mentioned before, there was a lot of trailers and cinematic gameplay and Ubisoft certainly delivered in the sense of the games they showed. Another thing I did notice frequently was a lot of stumbling of words throughout the show (especially the presenters at the start) and it was all a bit awkward at times. I know doing a live show can be very nerve racking, but I've never watched an E3 press conference where they've stumbled with there so many times if not ever and it's really evident, IN ADDITION TO THAT, you could hear all the background talking from the mic (I don't know if there was a problem), but it seemed a bit (I don't know the word for it lol), but lets get to the positive things, THE GAMES!
Here are the games I'm most excited for from Ubisoft's E3 press conference:
1. Beyond Good and Evil 2
The first headliner of the show was Beyond Good and Evil 2 (Just Dance doesn't count). This is the first I've heard of the game so whatever they were talking about in the trailer and segment I had no clue lol. Whilst writing this I found out the original came out in 2003. Putting that into perspective they tried to sell the game like "Oh my God! look it's Jade," but in reality no one really knows what the hell is going on and they should have showed more gameplay to sell the game a bit better, because honestly you're talking to a whole new audience. But from what I saw though the game looks really interesting and the open world looks amazing, though there wasn't really much shown for me to really speak on. Joseph Gordon-Levitt also announced the Space Monkey Program allowing people to create things for the game, which I guess is kinda Kool lol.
2. Trails Rising
A new Trails game was also announced, which has always been a pleasure to play by yourself or with your friends. They announced different locations of many different places in the world, as well as a new multiplayer mode where two players will control one motorbike, which will definitely create more chaos.
3. The Division 2
(I've spoke about this game previously in my Microsoft E3 Press Conference Review. They could have showed new gameplay for the game, but it is what it is)
4. Skull and Bones
The game looks absolutely stunning. Skull & Bones looks like a hybrid between Sea of Thieves and Assassin's Creed IV: Black Flag. It seems like it has a lot of potential and it definitely looks like something I would like to play.
5. For Honor Marching Fire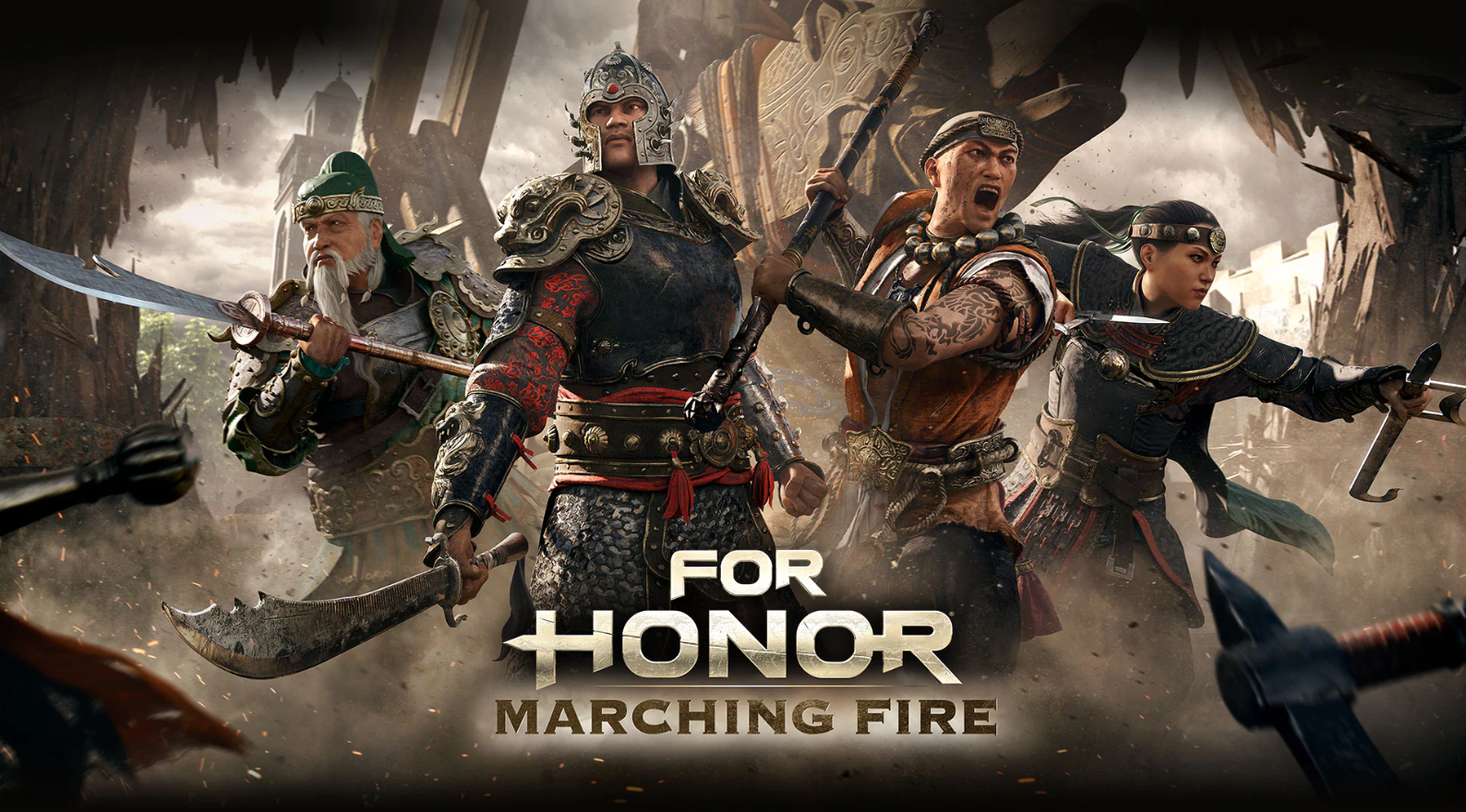 For Honor was another game announced, but it was just a cinematic gameplay trailer. This is my first introduction to the game and not much was shown in terms of actual gameplay for me to actually speak on it, but It does look good and is definitely something I would be interesting in playing
6. Crew 2
Racing games have really become a dead genre (and don't bring up Forza because it's shit). The last racing game to really make any noise in the gaming industry in my opinion was Need For Speed: Most Wanted (or Burnout Paradise if that came out after). I remember watching the first Crew at E3 and I really thought the concept of it was really Kool, but no one I knew was getting it so I ended up doing the same thing and I never played it. I don't think the game did to well either but here we are with a new Crew game. Although it was just cinematic gameplay I know it has the capability and it's definitely something I actually need to play to experience for myself.
7. Assassin's Creed Odyssey 
The last Assassin's Creed I bought was Assassin's Creed Unity, which I thought was terrible (the guy at the game shop recommended it and he really overhyped that game). I remember when the first Assassin's Creed came out and it was just something so amazing to me. The concept was incredible and the game was so fun to play. Since then it just feels they have been making the same game in different locations and everything about the franchise became so bland. When they announced this new Assassin's Creed in I thought "Here we go again," and had little interest in what was going to be shown. But when it came up it actually seemed different and they're straying away from the traditional way Assassin's Creed games have been done, which I think is great thing. They also announced the option of picking two characters in the game and the open dialogue implemented changes the outcome of the story meaning the decisions you make change the game making it more RPG driven.
There was also Transference, which was really intriguing virtual reality (VR) game. It seems like the father has done something where you will be able to go inside each family members mind. I can't really explain it myself, but it definitely has me hooked and I definitely want to know more.
Overall I thought Ubisoft's press conference was solid one. In terms of a presentation it was structured really well, although there was a lot of hiccups along the way. My rating for Ubisoft's press conference has got be 4/5 stars. It was a solid press conference, but there was a lot of cinematic gameplay trailers and not enough gameplay for most the games shown, and they definitely could have shown something new that we haven't seen for some of the games like the Division 2.