I didn't expect to be writing the second part so soon, but this one here is one of the most annoying ones out of all of them because COMPARISON IS NOT MOTIVATION!
From as early as I can remember this has been the norm for me. "X Y Z is doing this" "Look at what Z is doing" "X Y Z have all finished doing this" etc. etc. I could honestly go on for days. And the thing is, it was always done in a way to make you feel less of a person. I don't know if it's just a Nigerian thing, but they always have to throw in an insult, it's like it's in the blood. Those type of remarks will always end with something like "While you're here being so and so" or always adding one sly indirect, as if I don't know that it's me that you're talking about. The funny thing is that more time than not, the people they use to compare you with are worse than you lol.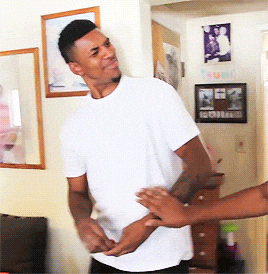 They don't even know what these people be getting up to some other shit behind all that and sometimes you have to laugh about it.
Seriously though, always being compared to another person in a way in which YOU ARE ALWAYS DOING WORSE is not beneficial for a child or any person in fact. In truth you'll begin to view yourself more negatively and it makes you really believe that you really aren't good enough and you end up chasing shadows. My first thought when I was younger after a while used to be "Go adopt them since I'm such a disappointment to you then," but over the years I've kind of learned how to block it out. For me personally, I was already going through a tough time "Not being normal" and that added baggage of "Not being good enough" is something I didn't need and till this day I don't.
Comparison isn't motivation, it's poison. Another toxic trait African parents need to let go off seriously. Everyone has different times so that comparison will kill you. Just because Shola got a job straight after uni and you're here 6 months in working in retail still looking for your career job, it shouldn't be something to bring you down. Your time will come my g.